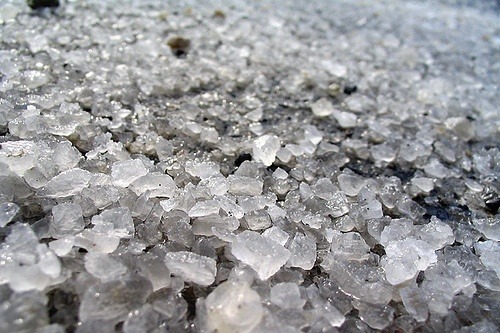 Salt!
Happy New Year friends!
I trust you had an enjoyable time with family and friends over the holidays. The kids are back to school which means we are all back to work and starting all of our routines. I wish everyone an enjoyable and prosperous new year.
The weather. Yes, the weather has certainly given us something to talk about over the last month. I want to take a minute to address some challenges this type of weather brings to your floors at home or at the office. With all the snow, cold weather and thaw we have been experiencing the dreaded ice build up has come. Ice in parking  lots, driveways and entrances can be treacherous to navigate. Salt is a great way to remove the ice build up as long as the temperature is above -6C. After -6C salt no longer becomes effective and we have to switch to an ice melter product e.g.. Calcium Chloride which is effective up to -25C.
The worst part about salt is that it gets tracked in to your home or office and makes a mess on your hard surface floors and carpets. A very inexpensive way to keep the salt from building up in your entrance ways is to use a vinegar and warm water solution. Add 1/4 cup of white household vinegar to 750ml of warm water. Some find the smell of vinegar harsh, although the odour dissipates quite quickly. You can add an essential oil to your vinegar and water solution such as peppermint to freshen up the room and eliminate the vinegar odour. Rinse your mop well while mopping and change the water frequently. It is counterproductive to be using dirty water when trying to clean your floors!
I hope this help friends, enjoy the winter, it only comes but once a year ????
All the best,
Kevin